Top 5 E-Commerce Websites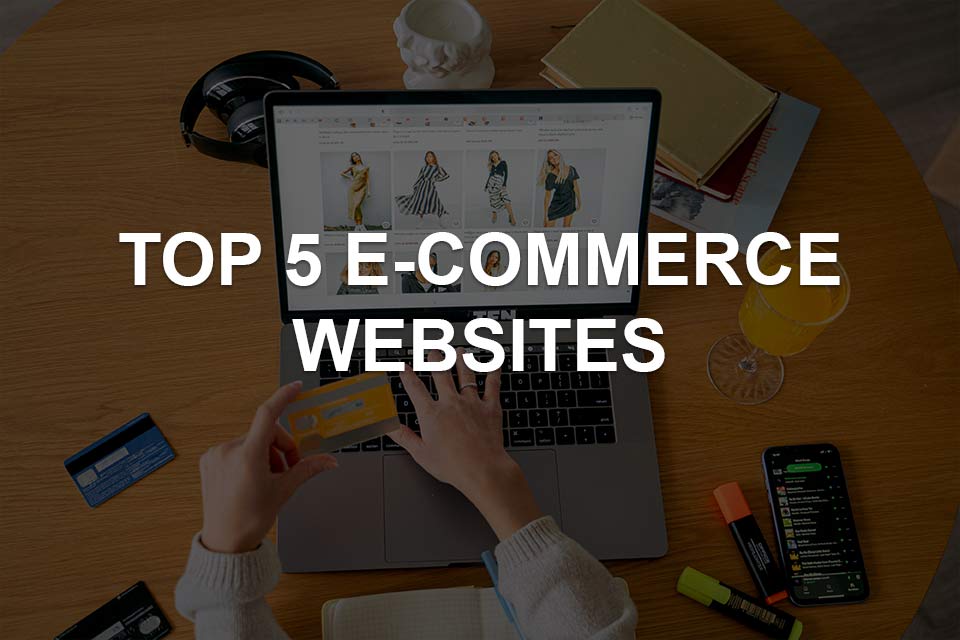 An eCommerce website is a big part of online business. Buyers from all around the world do online selling and shopping on eCommerce websites. In this article, we are going to discuss the top 5 eCommerce websites.
What Are eCommerce Websites?
It is a website that allows visitors to sell and buy services, digital products, and physical goods via the internet without any brick-mortar location. An eCommerce website opens doors for businesses to process orders, manage to ship, provide customer service, process orders, and manage logistics. The term eCommerce means the sale of services and goods on the internet.
Best eCommerce Websites
Amazon
Amazon is the world's biggest internet retailer and number one eCommerce website as it comprises 43 percent of all online sales in the US. Mobile-friendly design helps to be responsive. Mobile eCommerce website works well! Also, it is easy to complete the purchase. If it takes little steps to buy a product, you will provide better services to your customers. On a mobile homepage, you can see that all buttons are tap-friendly and the search bar is prominent. Predictive text input increases the search process. Amazon offers intuitive categories.
Walmart
Walmart is one of the largest retail chains in the USA. It started its eCommerce website in 2017 and completely overhauled its strategy. It made massive investments in this sector, and its online sales rose by 63 percent. On Walmart's mobile eCommerce site, we can see that user experience of the main primary objective. Descriptions and product images shine on a mobile eCommerce website. Its predictive text input simplifies the product search.
Etsy
Etsy is a mobile-friendly eCommerce website that sells handmade and vintage objects. It has a clean and minimalistic design. When compared, Amazon has a more complex layout; however, these two have different target audiences.
Sixty-five percent of buyers come from a mobile eCommerce website. Also, the search autocomplete feature has mind-reading abilities.
Shopify
Shopify is a complete eCommerce website that allows people to start, manage a business, and grow. It unifies all of your commerce onto a single platform. It is a cloud-based platform. You can access it from any connected device.
As an eCommerce website, Shopify requires an array of tools, inventory, and products. Shopify groups technologies and ensures that you can easily integrate and access other business tools.
eBay
eBay is a popular online shopping platform considered one of the top eCommerce websites in the world. On eBay, buyers can use the website for free. But sellers are required to pay to post their products and services. eBay serves as one of the biggest platforms in technology sales. It is a business-to-consumer and consumer-to-consumer online marketplace where people can sell and buy.
How to Build or Make eCommerce Websites
Building one of the best eCommerce websites requires step by step guide:
Choose a content management system.
Build an account.
Select an eCommerce template and theme.
Build out web pages customizing your site.
Build product listings.
Set up a payment gateway.
Test your eCommerce by launching.
Conclusion
In conclusion, we can say that eCommerce websites are an inseparable part of the business. In this 'digital world', people can buy and sell products and services on big platforms like Amazon and eBay. These top eCommerce websites work with SEO structure as well. People look for products or services and find these websites.
Frequently Asked Questions
What is an eCommerce website?
An E-commerce website allows people to buy and sell any products via the internet. For example, you can see products on Amazon and start the process online.
Which is the best platform to build an eCommerce website?
Shopify is the best platform to build an eCommerce website in a short amount of time.
What is the biggest eCommerce platform?
Today, Amazon is the largest and most prominent eCommerce platform for online shopping and sales.